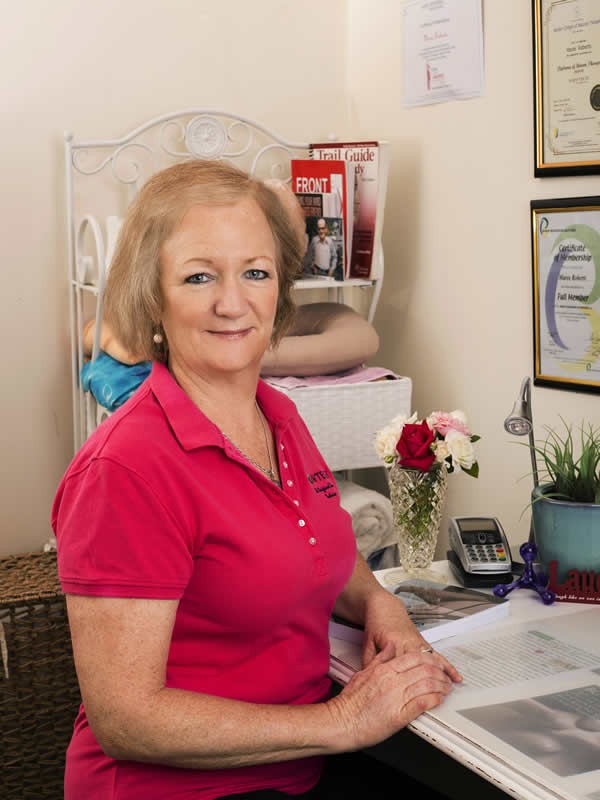 I am Maree Roberts, a qualified and experienced Bowen Practitioner specialising in pain and stress relief for all ages, from newborn babies to the elderly.
Many years of nursing experience and traditional medical knowledge complement my daily practice in Bowen Therapy.
I tried Bowen Therapy as a patient about 12 years ago, and it was the most effective treatment I had found for my lower back and neck pain.
I was so impressed with the results  that I chose to study the modality and here I am now a qualified, nationally accredited, and a passionate, practising Bowen Therapist.
I completed my Diploma of Specialised Bowen Therapy at Border College of Natural Therapies in Wodonga, in 2007.
Ongoing studies and workshops have given me more skills and experience to continue helping people further with their health conditions.
Through this uniquely gentle form of bodywork (Bowen Therapy), allow me to assist your body to remember how to heal itself, and enable you to regain a sense of balance, emotional & physical health and general wellbeing. I am sure once you try it, as I did, you will be amazed with Bowen's therapeutic benefits and share your stories with others.
Qualifications:
Dip Specialised Bowen Therapy (Bowtech)
Cert IV Bowen Therapy (Bowtech)
Memberships:
Bowen Association of Australia (BAA)
Bowen Therapy Academy of Australia (BTAA)
Get in touch to book an appointment and meet with me to discuss your condition further.